---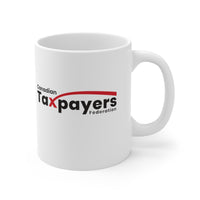 It's early morning. You sip your coffee and look at your tax return sitting on the table.
You pull your cheque book closer, and as you begin to write you think "I have gotten value for my money this year and the amount is fair and was spent well."
This fantasy is what gets our staff out of bed every morning, proudly advocating for you under the red swoop of the Canadian Taxpayers Federation logo.
This microwave-safe 11oz mug will remind everyone around the watercooler that government has no money of it's own.